Everyone's favorite Freelancer & Dungeon Siege site, Lancers Reactor, has reported a bit on the accidental creation of a base designed like the TCS Midway. Its creator, Aldebaran, thought he was making a Star Wars ship, so now his creation isn't useful to his current project. This set of files is mainly useful for mod teams, as the actual files can not be automatically applied to the game.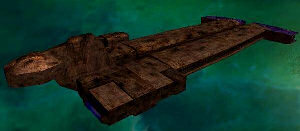 However, it would be a shame to see it go to waste so I have uploaded it here in case any of the other mods out there would like to use it. The CMP includes hard points for it to be a dockable base but no other hardpoints, so if you want weapons, lights etc... or even to turn it into a flyable ship, I am afraid you will need to add those yourselves. You will also need to build a SUR file for it as well as I never got around to building one for it.
LancersReactor is hosting the CMP and MAT files here.