Up first for today we've got a fan art submission by Rob Roberts. It's a little wonky, so I'll let him describe it.
I'm a WC fan who just stumbled across your site. I made this pic in Paintbrush (hard-core), influenced by WC. Not featuring any neccessarily identifiable ships, the style is similar.
I see some sort of Kilrathi manual in there, though my take is that it looks like Hobbes in a Ferret. It could be a fighter in the background.. though it looks a bunch like a Gilgamesh Destroyer. You can actually find more of his artwork here.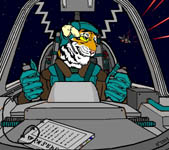 Stay tuned, Hades should have some extra cool stuff later today.