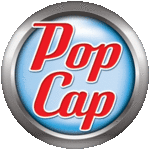 Electronic Arts announced a major acquisition today. They are currently in the process of buying PopCap Games for some $750 million. PopCap is known for many recent hit puzzle and social games, and this combination fits well within the EA Interactive division, which specializes emerging online and mobile games. PopCap issued a tongue-in-cheek open letter to its fans describing what this means next.
As some of you may have heard, we recently announced that PopCap Games is being acquired by Electronic Arts, a small mom-and-pop boutique software publisher. What does this mean for the future? It's simple:

1. EA is being rebranded to Poptronic Arts
2. Sim Zuma: The SwampLife Edition
3. Peggle: Dead Space – Bjorn's Breakfast
4. Bejeweled Battlefield Blitz
5. Plants vs. ZombEAz: NFL Lockout Edition

Wow!

Ok, not really.

It means PopCap will join forces with one of the world's largest game publishers, giving us access to many more resources and a greatly expanded global audience. It doesn't mean that PopCap is going away or changing what we do or how we do it. On the contrary, PopCap's creative culture is the main reason EA was interested in us. We're not changing our focus from creating awesome casual games everyone can enjoy.
And here's EA's official press release:
REDWOOD CITY, Calif.--(BUSINESS WIRE)--Electronic Arts Inc. (NASDAQ: ERTS) today announced an agreement to acquire PopCap Games, a leading provider of games for mobile phones, tablets, PCs and social network sites. With blockbuster titles like Plants vs. Zombies, Bejeweled, and Zuma, and a proven ability to create new hits, PopCap is a leader in the fast growing market for casual digital games.

"We picked EA because they have recast their culture around making great digital games" "EA and PopCap are a compelling combination," said EA CEO John Riccitiello. "PopCap's great studio talent and powerful IP add to EA's momentum and accelerate our drive towards a $1 billion digital business. EA's global studio and publishing network will help PopCap rapidly expand their business to more digital devices, more countries, and more channels."

"We picked EA because they have recast their culture around making great digital games," said David Roberts, CEO of PopCap. "By working with EA, we'll scale our games and services to deliver more social, mobile, casual fun to an even bigger, global audience."

"PopCap has a proven financial trajectory with sustained revenue growth and double-digit operating margins," said EA CFO Eric Brown. "On a non-GAAP basis, this deal is expected to be at least ten-cents accretive in fiscal year 2013."

PopCap is one of the largest and most respected digital and social gaming companies with more than 150 million games installed and played worldwide on platforms such as Facebook®, RenRen, Google™, iPhone™, iPad™ and Android. In calendar year 2010, approximately 80% of PopCap's revenue was on high growth digital platforms.