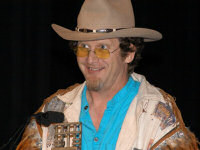 The audio magazine Mix (Mix Online) has conducted an interview with famous Wing Commander musician George "The Fat Man" Sanger. It's a cool article that starts with some Wing Commander history and then delves into Sanger's personal background. There is also some good discussion on how involved he feels game musicians should have with the game design. Check out the full interview here.
It wasn't too long ago that videogames represented an interest of less than 10 percent of the nation's population. That meant if you sold 1 million copies of a game, you were wildly successful. A handful of developers created games that were this financially successful, one of which was Wing Commander, released in 1990. Not only did the game sell well more than 1 million copies, but it also represented the first time a game programmer (Chris Roberts, who was also the game's designer) went on to direct a feature film. One of Wing Commander's most notable aspects was its soundtrack: A groundbreaking leap was taken in cinematic presentation, and the soundtrack followed suit with a John Williams/Alan Silvestri-inspired score that made players' jaws drop, especially on high-end sound modules such as the Roland MT-32.

...

People would say, "What does surf music have to do with black T-shirts and pixels? This isn't game music!" [Laughs] So, good. I always took my eclectic tastes for granted and assumed there were a lot of other people who wanted to make exciting and extreme stylistic combinations. Maybe I was gifted, maybe I was cursed. When I do it, it confuses the hell out of people. I just make any noise, any style, and try to make it impactful to the heart rather than in a specific style for its own sake.