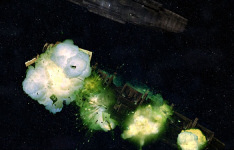 The Wing Commander feature film was recently broadcast on television in France and other French speaking European territories, and a dubbed version of the two minute "international trailer" has surfaced to go along with it. Not only has it been dubbed, but all of the title cards are in French as well. The trailer is otherwise very similar to the English version, though it's always a lot of fun to hear what voices they chose to represent Blair and company in other countries.
You can download the French version of the trailer in DivX flavor here (15.6 megs) or in Flash video flavor here (11.2 megs).
You can also download a flash version of the trailer in English but with French subtitles here Check out the trailer and other promotional material for the movie in the Holovids section.