Mythic Project begins today! Live updates throughout the week at https://www.youtube.com/WingCommanderCIC. Videos filmed from ChrisReid's cell phone will automatically appear on YouTube. Check this space regularly! The team will also be taking separate high definition videos of the event to archive/upload later.
Members of the CIC staff and other volunteers have made their way to Virginia to help archive what remains of Origin Systems' data library. We will be updating throughout the next week to let everyone know how the mission is going - expect big things!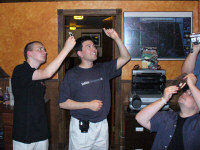 Thanks to the invaluable assistance of the Wing Commander community, "Team Technosaur" is primed and ready with working equipment and methods for reading everything from 3.5" diskettes to SyQuest removable hard drives. Good work, everyone - we'll be working for you!