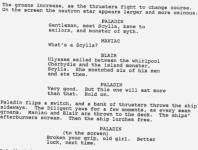 AD has been doing some research on the Wing Commander Movie, and the result is an interesting article on the differences between the shooting script and theatrical cut of the film. He's carefully compared the final draft script to the movie's DVD in order to highlight scenes that were probably filmed but cut in editing. He's managed to uncover quite a few interesting deleted scenes and alterations. Head over to Crius.net to find the summary here. Don't hesitate to provide feedback. The more people talk about this stuff, the sooner some of these scenes might be released. You can download three different drafts of the WC Movie's script via the CIC Document Archive.
Deleted Scene: In the script Paladin has to eject after destroying the Capship and his pod is rescued from the moon's gravitational field by Blair's Rapier's tractor beam.

The script has Rosie remaining silent after crashing but alive for some reason so as to not attrack the Kilrathi.

During the Kilrathi "depth charge" scene, the script seems to include more damage scenes including ones where a Rapier breaks free from its moorings and crushes a few technicians and a scene where one of the torpedo tubes breaks and a hull breach kills all the crew that get sealed in the room.

Deleted Scene: After the hull breach on the the flight deck is sealed a scene with by Sansky in his quarters. Gerald and Paladin are there and Gerald talks about the Kilrathi knowing their moves. Gerald suggests Blair is a traitor. They also discuss the extent of the Tiger Claw's dammage.

Deleted Scene: This one follows directly after the previous deleted scene with Sansky. This one is on the Kilrathi ship. The traitor gets sent to the ConComm to prepare for the jump and transmit the navcom coordinates to the fleet.

Next up, the script has Blair confronting Angel about the "never existed" stuff on the flight deck instead of immediatly after the Maniac/Blair scene.

The script also has workers in spacesuits repairing the outer hull.