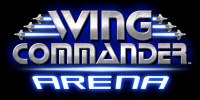 Electronic Arts has launched their official Wing Commander Arena forums! It's little remembered history that our own forums were first created because Origin Systems shut down their "Official Wing Commander Chat Zone" in 1996. It's a small thing for most people, but EA once again running an official WC forum is an important symbol for me.
We have become a close knit group of friends over the years... now let's go and interact with the rest of the world once again! I believe longtime WingNuts should make a special effort to be courteous and helpful to this new group of people who will surely become the next generation of Wing Commander fans.
You can find the new Wing Commander: Arena forums here!