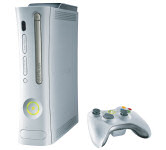 IGN has posted an interesting editorial: it's a wishlist of classic games that should be ported to X-Box Live Arcade, following the highly successful release of DooM. Sure enough, Wing Commander made the list. Origin games also took three other slots: Crusader: No Remorse (#6), Abuse (#8) and Autoduel (#9). So... where's Ultima?
5. Wing Commander
Origin Studios' ultimate space shooter franchise featured some phenomenal dog-fighting. This game would work both as a multiplayer and a single player game.
Microsoft has also recently licensed Mad Catz to produce a full-featured X-Box Live Arcade Stick. Even if they don't end up porting Wing Commander to Live Arcade, the X-Box 360 is still an excellent platform for Wing Commander fans to use for getting together. The CIC staff frequently runs games of Ghost Recon: Advance Warfighter, and we welcome any other WingNuts to join the fun. There are some other promising games on the horizon, including Rainbow Six Vegas and Star Trek: Legacy. We highly recommend any Wing Commander fan invest in an X-Box 360.