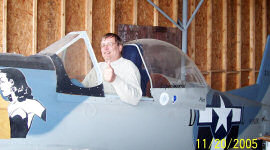 On the lighter side, acclaimed author William Forstchen has posted an update to his website. Dr. Forstchen had a hand in writing all of the Baen Wing Commander novels except the first, Freedom Flight. He doesn't do hard science fiction anymore, but we're happy to see his first comprehensive report in a year or so. Some of his story ideas stalled in that time frame, and he's looked to new inspiration to continue his work. His upcoming novel "One Second After" is described below, and details about some of his other active projects available at his site. Dr. Forstchen also recently purchased an airplane. It's ¾ scale replica of a P-51 Mustang that he is currently restoring in his free time. That sure sounds like a fun project!
The other project is one that just kind of burst on me a couple of years back. Actually the genesis is ten years back when I came up with an idea of aliens using EMP to shut down the global power grid, and then just drove away. No invasion, no machines stomping around, just let us stew in our own technological collapse and after twenty years or so, come back to finish us off. It went no where. And then I had a conversation with Newt, about the current real threat of a terrorist or rogue state EMP strike on the continental United States. All it would take is one weapon:

Thus "One Second After" will be published later this year by St. Martin's Press. The story is personal, very personal. Some years back a writer who was a real role model and mentor, Jean Shepherd, (who actually was my neighbor up in Maine) told me to "write what I know, write what I love." So I set the story of a post EMP world in my home town, a sort of alter ego of me, the main character, struggling to keep his family alive, while his small town and college up here in the mountains of western North Carolina, slowly disintegrates after the entire power grid and computer-based world we live in, is shut down. It was a very hard, grim tale to write and my intent is that it is a warning of a very real, and very present danger that needs to be addressed.