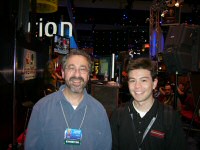 The University of Texas at Austin has announced that Wing Commander producer Warren Spector will be leading a new gaming academy at the school. The program will also be directed by Blizzard COO Paul Sams. Twenty slots will open up for promising students in the fall of 2014, and the end result will be a distinguished post-baccalaureate certificate. Each participant will make a small scale game of their own over the course of twelve months. UT Austin is also home to a massive video game archive that's full of historic Origin material. It'd be a great place to be if video gaming is your career path, but admission is highly competitive!
Texas is an epicenter for the computer and video game industry. It has the second-largest concentration of game companies in the U.S., with more than 155 development and publishing companies throughout the state providing around 4,000 full-time jobs, according to the Texas Film Commission in the Office of the Governor.

The academy will be industry driven – instead of a graduate degree, students will earn a post-baccalaureate certificate, which offers fewer restrictions than a traditional academic degree and will enable the program to remain relevant and responsive to industry trends.

"The Denius-Sams Gaming Academy will create the most-intense program of its kind, in which aspiring professionals enlist in an all-in adventure, rather than complete mere credit hours," said Roderick P. Hart, dean of the College of Communication. "The program will prepare students to become creative team leaders who will drive the creation of games in the future, and ensure the vitality of the gaming industry."