We'd like to take this opportunity to wish everyone a Merry Christmas and happy holidays from the Wing Commander CIC! Hopefully all of you get a chance to rest, relax and catch up on some Wing Commander adventures during this season. Marc has once again put together a clever WC-themed Christmas tribute. The Concordia takes the place of a classic holiday train set this year, and he's even included a nod to Chris Roberts' new project. Thanks to everyone for taking the time to share your holidays with us, and thanks to Marc for putting together another Christmas treat!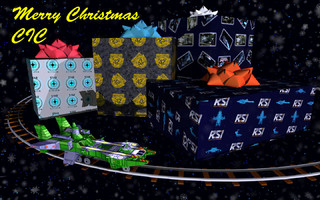 The best gift we could ever hope to have is time with eachother. That's advice I intend to follow myself during the holidays.

...'course, a new game never hurts...