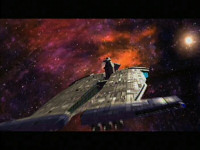 1UP.com (now a member of the UGO network after having been spun off from the Electronic Gaming Monthly print magazine) is running a cool feature about their 101 favorite gaming websites. They've narrowed down their "game specific" picks to ten choices, which includes the Wing Commander CIC! Check out their list here. Thanks to Branches for sending this in and 1UP for noticing our thriving community!
...we think you're ready for an amazing revelation: 1UP isn't the only gaming site on the Internet! Yes, it's true. We are but a single square in the vast quilt that is the videogame-obsessed Internet.

Wing Commander CIC: You probably didn't realize that the Wing Commander community is active enough to justify daily news updates, which is why WC CIC exists: to school you.