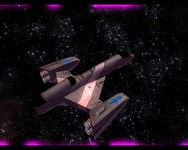 Kevin Caccamo's Prophecy/Secret Ops importer/exporter marvel, Wing Blender, has achieved full 2.0 release! This update further streamlines the process to manipulate ships destined for the Vision Engine. The feature list is below, and users can find documentation for the program here. Grab the app itself here (31 k zip). Happy modding!
Export child objects along with parent objects.
Customize LOD ranges.
Customize CNTR/RADI chunks of each mesh.
More validation.
Improved support for varying forward/up axes.
More flexible LOD object naming schemes.
Support for flat colour materials.
Collision spheres and hardpoints in the scene root are ignored.
Better handling of numeric and non-numeric texture filenames.