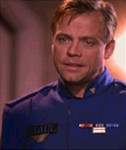 LeHah tipped us off about an AMA with Mark Hamill that will be held tomorrow, January 22, at 1 pm Eastern Time. Hopefully there are some Wingnuts out there who can make a good showing and get some Wing Commander questions into the mix. We wouldn't want it to be all about Star Wars and Batman!
Chris Roberts conducted a couple AMAs back in 2012 during his the Star Citizen crowdfunding campaign. You can read up on what he had to say here and here.
andy_herbert: Which is your favourite Wing Commander, or Wing Commander-alike game? My personal favourite is Privateer :) Many thanks for literally years of enjoyment!

CommanderRoberts: WC1 & WC3 are tied for different reasons. WC1 is probably the most perfect game I'e ever made in terms of matching the vision in my head to what the finished game was. WC3 is my other favorite as its where I think we perfected the combining the story with the action i a big cinematic way.