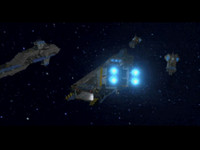 This is a quick reminder to Wingnuts with a microphone. Plywood Fiend's Wing Commander audio story is taking volunteer voice actors through tomorrow, November 25. Volunteer or find out more at the CIC Forums here.
To that end I've written a short script as a kind of prototype to gauge whether or not the community would be interested in the like. If anyone is interested, then there are places available for voice actors, with four primary roles and four additional minor roles with just a handful of lines.

Plot Synopsis: A backwater system guarded by two outdated Confed destroyers, the TCS Nottingham and the TCS Apache comes under attack by Kilrathi raiders consisting of a single modern Kilrathi destroyer plus escorts. The Apache is quickly destroyed, and pilots from the Nottingham fight a losing battle for as long as they can, slowly getting picked off, before the Nottingham rams the Kilrathi destroyer, saving the system.