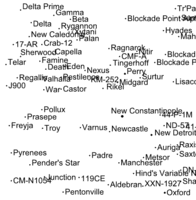 J. King was studying the universe maps and plotted out a simple projection of his own. He's created a representation of the Gemini Sector for use in plotting cargo runs. J. inquired about expanding this to more sectors, but no source coordinate reference is readily available. You can grab his Gemini SVG here (2 kb svgz).
I've been admiring the extensive universe map you have available for a little while now, and I've been wondering if source data (coordinates, classes, jump-line doubles) might be available. I recently created an SVG map of the Gemini sector (attached for your reference) for my personal use, printed so that I might better plan cargon runs when on solid ground, and while it is stylistically simple, I find it is both useful and has a certain sense of beauty

I began to imagine what a wonder a grand map might look like, how refreshing it would be to control its styling easily and so on. The only trouble is that to re-plot each star would be a rather onerous task---Gemini wasn't so bad with only 69 stars and 82 routes, but it still took some time to get it right, sadly. In the hope that I migth save myself considerable trouble, I thought I might ask.