Wing Commander will be broadcast this week in the UK on the Sky Movies Family channel. This will include simultaneous airing on Family HD, so this is a cool chance for some to catch the film in high definition. It's showing at 6:05 am on April 12 with an encore performance at 1:20 am on April 13. Check out the Sky Movies page with pictures and a review here.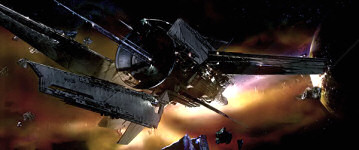 Freddie Prince Jr, Saffron Burrows and Jurgen Prochnow star in a splashy videogame spin-off. Six hundred years into the future and human exploration has reached beyond Earth's galaxy. But the future is not so bright. As more galaxies mean more chances of alien hostility, Earth's existence hangs in the balance. This is an adventurous and courageous film of a battle against the odds as the threat of human extinction is all too eminent.

-----------------------

The Human thirst for the unknown has resulted in an intergalactic war between the Terran Confederation and the ever so slightly scary, giant, tuscan-coloured rubber cats - the Kilrathi. Caught unawares, the Confederation fleet is ambushed in a random Kilrathi attack.

Earth's remaining pilots (about ten) courageously opt to tackle the vast Kilrathi fleet in what can only be described as a Pearl Harbour-esque suicide mission (with really un-cool outfits).

Instead of taking to the sky they take to space with all the banter ridden arrogance of fighter pilots similar to the likes of Top Gun and Pearl Harbour, with classic lines such as, "You've got balls" to which the reply is, "You should see 'em."

In order to save Earth, the NAVCOM unit with the hyperspace jump coordinates to Earth must be recovered from the Kilrathi's clutches. The fate of the world lies in the half-human, half-pilgrim pilot, 1st Lt. Christopher Blair (Freddie Prince Jr.), who has inherited special interstellar navigational abilities from his Pilgrim mother.

By fending of discriminatory remarks (due to his Pilgrim blood) with a constantly confused stare, and out of this world flying technique, he eventually wins over... everything, with all the emotion of a wet flannel.

Asteroids, alien attacks and death defying stunts are the elements of this basic and unconvincing sci-fi adventure, although its best not to take it too seriously.

As science-fiction goes, Wing Commander is decidedly un-cool, yet ironically, probably the most realistic depiction of future space travel... with a little rust around the edges.