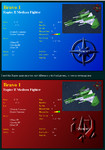 Avacar continues to make great progress on an online software-based version of Wing Commander TacOps. The database to control ship coordinates is complete, and both popups and forms have basic functionality working. Click the links to test them out, but note that they may not work in Internet Explorer. There's even a bonus tech demo that lets you play with ship movement (again designed for Firefox or Chrome). Up next on the list of tasks is to work on the ship orders (as in commands) system.
Hi Everyone. I have a nice Phase 3 bonus for you. With the skills I picked up on Saturday, and using the framework I built for the Phase2a demo (i.e. this is not database fed, like the real game will be), I give you Fun With Rapiers. The formatting on the dialog is a bit chunky, but it took all of 30 mins to do this entire demonstration.

My next update will likely be longer in coming, as I now have to tackle the actual Phase 3 objectives (build the ship info dialog, and weave it into the code so it is turn/phase database fed. I also intend to build the pilot class, which I haven't done yet, and tie it in).