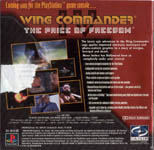 The exciting rerelease of Wing Commander 4 for the Playstation 3 and Playstation Portable has raised a few important questions. Wingnuts have been asking us for specifics about the game and details compared to the PC version. As this is a 'PSOne Classic' game, what is now available is the original Playstation version released in April 1997, and it's up for purchase now through the PS3 and PSP (and not for the PC) for $5.99.
The Playstation version of the game shipped on four CDs instead of six, so there were certain tradeoffs made. 16-bit stereo Dolby Surround sound was added, but the videos are slightly more compressed and some nonessential scenes and video choices were removed. In order to eliminate ground missions, the entire Circe System was cut. The three atmospheric missions in the Tyr System were replaced by three brand new missions with alternate wireframe briefings. These have the player search and insert marines into space labs to search for the bioconvergence chemist.
The comm videos also are in color on the Playstation! And there are some different names in the pilot database. WC4 also got a control scheme revamp with support for dual analog joysticks, customized controls and "force feedback" rumble. Bonus features for playing this game on the PS3/PSP include the ability to pull the manual up at any time and reassign controls outside of the game. Stop by Crius.net for any other questions. Sound good? Now go get it!