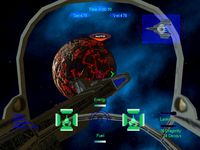 Mods like Perfect Plan wouldn't be possible without eddieb's Flight Commander program. Reprogramming Prophecy or Secret Ops is very difficult, but Eddie has made it easy for new modders to get their feet wet with something a bit more user friendly. New this week is the version 1.4 patch 6. It corrects an issue with the game recognizing joysticks. You can get help on running various FC mods or learn about making your own project at the Flight Commander Forum.
Flight Commander is a space combat game in the style of Wing Commander. The Flight Commander engine was programmed from the ground up, and comes with a graphical mission editor. It is designed to accomodate easy modding, using standard formats for images, sounds, and 3d graphics. All game stats can be changed easily with a text editor.

For the more advanced missions, scripting is done with the user-friendly but powerful lua scripting language. All scripting commands are well documented, and many examples are included for a variety of missions.