Cyberion and ZFGokuSSJ1 are working hard on a website about Origin's Crusader series. The isometric shooting game turns ten today, so they've gone ahead and released what they have so far. I'll let Goku take it from here: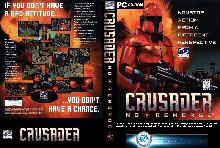 On September 22, 1995, Origin Systems, Inc. released a game, published by Electronic Arts, with "non-stop action from a different perspective." That game was Crusader: No Remorse. Crusader broke all the boundaries of what action games were up to that point. It featured fully destructible environments, clear, crisp, and beautiful graphics, a great soundtrack, an interesting story with full-motion video, and huge replayability. Crusader is set in the distant future, where a group called the World Economic Consortium, or WEC, has taken over the entire world. You are a Silencer, an elite member of the WEC special forces, the best of the best. The WEC's enemy, The Resistance, has been causing pain for the WEC since they began their reign in 2150. The Silencer is a member of an elite WEC military team that decides to let some Resistance troops go free. In response to their actions, the WEC sends a Vetron mech to ambush the squad. The Silencer is the only survivor. He joins the Resistance to avenge the deaths of his comrades. Throughout 15 missions, the plot thickens and unfolds, and the action just keeps getting better and more intense. At the very end, you're craving for more.

Crusader: No Regret was released the following year. Although plans were created to continue the series, a third chapter was never made. But instead of focusing on that, we should celebrate the series for what it is. We have opened Echo Sector, the only active Crusader website on the internet, to provide information for fans and educate others about the series.

The site is still in beta form, so everything isn't complete and organized yet. I hope everyone who even has the slightest interest visits. Thanks.