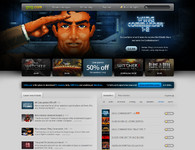 Good Old Games has announced a big holiday sale coming next week! Beginning Monday and continuing through January 2, almost all of the GOG catalog will be 50%, including titles from Electronic Arts. There are also a handful of non-Wing Commander freebies over the next few days. Check out the details here and start saving your pennies - Wing Commander download codes for just $3 make amazing stocking stuffers!
Then, on Saturday, we will start a season of holiday celebrations by awarding a number of game codes to you guys! We'll have copies of Master of Orion I + II, courtesy of GOG and Atari, copies of Realms of Arkania I + II, and lots of codes for $5.99 and $9.99 games. We'll be giving them away through social media (that's Facebook and Twitter) as well as through our forums right here on GOG.com! Be sure to check in with us this weekend and you just might win an awesome game or two from us.

Finally, we're starting our winter sale with a huge bang--we're giving anyone a free copy of Empire Earth Gold Edition for 48 hours. Starting on Monday 12 December at 11.00 GMT and running until Wednesday 14 December at 10.59 GMT, anyone can add Empire Earth: Gold Edition to his or her shopping cart for free as a holiday gift from us to you!

Also, starting on Monday at 11.00 GMT, GOG.com is adding virtually every single game in our catalog for 50% off from now until 2 January 2012. Pick up games from fantastic publishers and developers like EA, Interplay, Atari, Activision, Sierra, and many more for half off this holiday season!