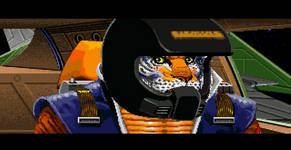 Wingnuts are cruising together through WC2, and the fight is just warming up. Players should plan to finish up and Niven complete the Ghorah Khar missions this week to stay on track. The hunt is also on for nifty screenshots from the game. Here's DaveO's recollections from Gwenydd.
I meet my new wingmate, Shadow. It's nice to meet somebody who does not daily remind me of what happened to the Claw. Another boring diamond patrol is up for today. At the first nav point, my adrenaline goes up a few notches. I see three Sartha light fighters on the first nav. Each fighter takes a few hits, and goes down easily. I relearn how to fly through asteroids from my first tour of duty. A few discreet touches on the afterburners, and no problems. Unfortunately, there are three problems at nav 3. Drakhri fighters are around, and they bear a small resemblance to Dralthi. The shields and armor on these ships are not much better than the Sarthas. Thank goodness my piloting skills did not rust after ten years of no combat action.

Shadow admits her fear of dying in combat. I tell her she did well, and that our only choices during this war are to keep fighting or to aid the Kilrathi like the Society of Mandarins. During communications duty, I get an urgent SOS from the Concordia, and they need fighter support since their hangar was damaged. I contact Shadow, and we autopilot to the distress signal. It's a bit of a furball with six Sarthas swarming the Concordia. Fortunately, the light shields and armor of my opponents makes the defense short work. Upon landing on the Concordia, I meet up with some crewmates from the Tiger's Claw. Angel and Spirit are in the Rec Room to meet me, along with Jazz and Doomsday from the TCS Austin. Jazz reminds me of what happened to the Claw, and I tell him what I think.