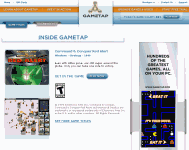 GameTap has added a new trio of EA games to its library. Sid Meier's Gettysburg!, the original Command & Conquer and C&C Red Alert are now available to play. For those who were worried that Wing Commander Privateer's addition to the service might have been cancelled, don't despair. Both Privateer and Red Alert were announced at the same time near the beginning of this year. In related news, Gamespot is reporting that multiplayer Myst Uru is being brought back to life via GameTap. The game's dedicated fan base is cited as one of the main reasons that the series is being resurrected. New content will even be added over time, so fans that once thought their favorite series were gone have new reasons to be excited.
That Uru Live has life at all is probably surprising to some. The game had a strong fan base before it was shut down during beta on February 9, 2004 due to a lack of financial resources. Left with no official place to play the game, many players stayed together in an unsupported freeware version of the game called Until Uru, made available by its developer, Cyan Worlds.

Big game companies like Electronic Arts and Activision should take note: Communities of gamers increasingly say they won't let their favorites go quietly into the night, and small companies like GameTap are trying hard to tie into that fandom ...