Dimitri Avignoni
The Terran Knowledge Bank
Behind the Screens
Portrayed by actor Kevork Malikyan.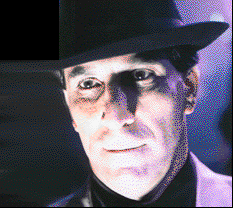 NAME:
Avignoni, Dimitri
AGE:
37
PLACE OF BIRTH:
Hermes
PROFESSION
Owner, Avignoni Microelectronics Ltd.
BACKGROUND:
An extremely talented microelectrician of genius-level intelligence, Avignoni's abilities in his field are rated second-to-none. However, he has rejected all of the many offers made to him by interplanetary electronics company, and has been implicated in many small-time scams such as product duplication and system-breaking. Currently runs his own company, although its low profits lead us to suspect continued involvement in criminal activities. Known to associate with Joe Kane (see entry), proprietor of the "Sinner's Inn" (see entry)
Criminal Record: 37/E/2771 Breach of Copyright [suit brought by Fantozzi Circuits], 25/b/2775 Interfering with CIS Property [tampering with CIS database].