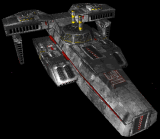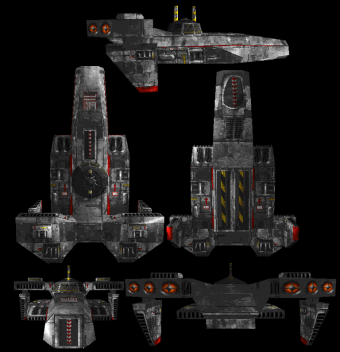 CR02 Ogan in Universal Freight markings, Tri-System circa 2790 (larger).
---
HISTORY
The Ogan is a civilian medium transport design available on the civilian market in the Tri-System. The Ogan entered service before 2778.
Notable Ogans include D357_571N (2786), which flies a Crius, Anhur, Desolia run, S232_264Q (2783) licensed to fly in the Irrulan System and M236_257S, which is wanted in relation to weapons running charges. E476_456J (2778), which flies the Hermes-Destinas route, is a specially modified refrigeration ship variant. All of these Ogans belong to Universal Freight.
---
SPECIFICATIONS
Class: Transport


Max. Velocity: 220 kps
Aft. Velocity: 440 kps
Acceleration: 32 kps2
Max. Y/P/R: 20/20/20 dps
| | | | | |
| --- | --- | --- | --- | --- |
| | | 400 cm | | |
| | | 400 cm | | |
| 400 cm | 400 cm | n/a | 400 cm | 400 cm |
| | | 400 cm | | |
| | | 400 cm | | |
Guns-
(1) Dual Mount Turret A
Cloak: No
Jump Drive: Yes
Cargo: 550 tonnes
Cargo Bays: 6
Cost: 240 credits (per run)