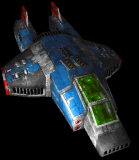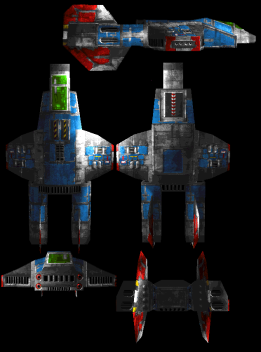 PR03 Karnenan in civilian colors, Tri-System circa 2790 (larger).
---
HISTORY
The Karnenan is a civilian medium fighter flown by independent operators and low-level pirates. It is notable as the least expensive medium fighter on the Tri-System's private market. The Good Time Gang, a Hermes-based smuggling operation, flies a pair of the fighters. Good Ol' Boys Haulage, a front for a pirate organization, maintained an Aurora as part of its arsenal. More respectably, one of the Tri-System's most experienced pilots, Paetas Sturge, flies a Karnenan.
The Karnenan entered service before 2779. Notable Karnenans include D674_467N (2784), E666_346W (2779), G734_435J (2787) and R677_241C (2788).
---
SPECIFICATIONS