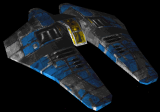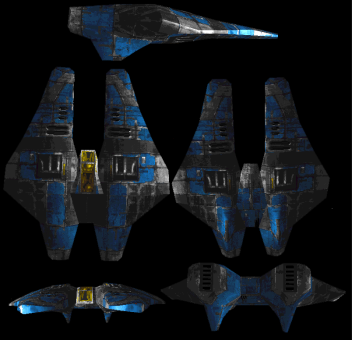 ML03 Faldari in civilian colors, Tri-System circa 2790 (larger).
---
HISTORY
The Faldari is a mid-range heavy fighter available on the private market in the Tri-System. It is a civilian version of the military's ML2B Faldari-class Medium Fighter. The design was followed by the ML3A Faldari MK II, a significantly cost-reduced design.
One of the Tri-System's most well known pilots, Lerissa du Voille, flies the Faldari. Other noted Faldari pilots include Louissa Phillips, daughter of Hendri Phillips, and Melissa Banks, on again off again girlfriend of Vel Ricaud. Less reputable mercenaries frequently fly Faldari: four of the fighters defended The Buckaroo Boys, a murderous band.
The Faldari entered service before 2786. Notable Faldari include F902_466J (2786) and I552_235G (classified).
---
SPECIFICATIONS