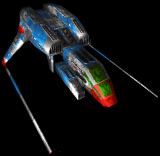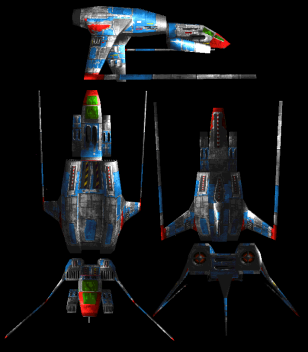 PR02 Shaman in civilian colors, Tri-System circa 2790 (larger).
---
HISTORY
The Shaman is an inexpensive light fighter that is flown almost exclusively by independent operators. It is the fighter of choice for two of the Tri-System's most well known pilots: Eryl Barsteadly and Tallboy Rickardson. Blackhood, one of the terrorists who targeted the Schimell Medi-Corp's space station, also flew a Shaman.
The Shaman entered service before 2785. Notable Shamans include H344_565F, confiscated by the CIS because of its involvement in a drug smuggling operation, U999_241Z (2785), which is licensed to travel only in the Isaac System and A236_345P.
---
SPECIFICATIONS
Class: Light Fighter


Max. Velocity: 320 kps
Aft. Velocity: 640 kps
Acceleration: 48 kps2
Max. Y/P/R: 50/50/50 dps
| | | | | |
| --- | --- | --- | --- | --- |
| | | 162.5 cm | | |
| | | 105 cm | | |
| 162.5 cm | 105 cm | n/a | 105 cm | 162.5 cm |
| | | 105 cm | | |
| | | 162.5 cm | | |
Guns-
(2) Stream Laser
Missiles-
(1) Snipe
(1) Brute
(1) Brute Mk. II
(1) Python
(10) High Explosive Mine
Decoys: Decoy Mk. I (10), Signal Filter (1)
Cloak: No
Jump Drive: Yes
Module Mounts: 4
Missile Mounts: 4
Gun Mounts: 2
Crew: 2 (Pilot & Passenger)
Cost: 17,000 credits