Origin Press Release - Nov 1, 1995 - P2 to Shoot at Pinewood
The Terran Knowledge Bank
DOWNLOAD A Copy of the actual press release HERE
---
NEWS RELEASE - contact Media Relations Department Contact: David Swofford or Tresa Potts Origin Media Relations Nov1,1995 For immediate release
PINEWOOD STUDIOS PLAYS HOST TO THE DARKENING
An ORIGIN Interactive Movie
Electronic Arts and ORIGIN Systems Inc., an Electronic Arts company, continue to pioneer the innovative new medium of CD-ROM based interactive entertainment, with the production of Europe's first interactive movie title, The Darkening. Production crews finished taping The Darkening in July at the world famous Pinewood Studios, Buckinghamshire, England. The game is scheduled for release in 1996.
Electronic Arts has been driving the evolution of new entertainment forms growing out of the convergence of media such as film, cable television, computers, and digital audio technology. ORIGIN Systems revolutionized the entertainment software industry with the first interactive movie, Wing Commander III: Heart Of The Tiger, released last Christmas and starring Mark Hamill (Star Wars), Malcom McDowell (A Clockwork Orange), and John Rhys-Davies (Raiders Of The Lost Ark).
In preparation for the convergence of film and computer technologies several years ago, Electronic Arts Productions Inc., the US production arm of Electronic Arts, broke new ground by signing an agreement with the US based American Federation of Television and Radio Artists (AFTRA) - the first ever agreement of its kind and a precedent for future talent negotiations around the world.
In May of this year, Electronic Arts Limited, the UK production arm of Electronic Arts, signed an agreement with the British Actors' Equity Association, the union of professional performers in the United Kingdom. Equity, headquartered in London, represents actors, singers, voice-over performers, stunt performers and others who work in motion pictures, television, and radio productions.
Directed by Steve Hilliker of London based Nelso Films, this state of the art project will star Clive Owen (Close My Eyes, Chancer), Jurgen Prochnow (The Keep, Das Boot, Body Of Evidence) and Christopher Walken (The Deerhunter, Pulp Fiction, The Dogs Of War). The internationally acclaimed cast also includes John Hurt, Amanda Pays, Brian Blessed, David Warner, David McCallum, and Mathilda May.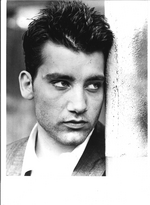 The Darkening is an interactive science-fiction adventure and is set in a futuristic universe comprising eight planets. The main character, Lev Arris (played by Clive Owen) awakens from cryogenic storage, a coldsleep that might have lasted for as long as ten years. He was allegedly suffering from a disease for which (ten years ago) there was no cure. His pod has been pulled from the wreckage of a star-freighter called 'Canera' that was mysteriously attacked by ships of an unknown origin. He has lost his memory and is now faced with rediscovering his identity by interacting with dangerously devious and sinister characters, some of whom are out to kill him. Lev Arris must endure a roller-coaster journey of bribery, corruption, deception and violence. However, the decisions he makes will decide his plight.
The player takes control of the main character, Lev Arris, and may interact with a choice of 50 actors while having the freedom to move anywhere within the game. The Darkening was filmed on Digital Beta and 16mm film and is planned for release on PCCD in the spring of 1996.
Electronic Arts is a registerd trademark of Electronic Arts. ORIGIN, Ultima and Wing Commander are registered trademarks, and ORIGIN Interactive Movie, Heart Of The Tiger and The Darkeing are trademarks of ORIGIN Systems Inc. All other trademarks are the property of their respective owners.
ORIGIN Systems develops and publishes state-of-the-art entertainment software. To date, the company has released more than 50 titles, including the award-winning Ultima and Commander series of games. ORIGIN is based in Austin, Texas, and is a wholly-owned subsidiary of Electronic Arts (NASDAQ: ERTS).