Tim Peel from SciFi Meshes took Howard's Hornet out for another spin and produced this gorgeous wallpaper image. Like his last image, this one was taken at dusk and takes advantage of a natural environment. Whether in space or over water, this design just looks great. Two aspect ratios are available: 1680x1050 and 1920x1080.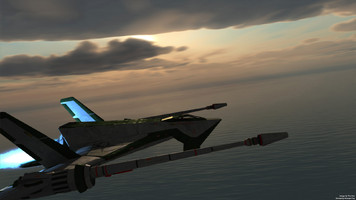 As a near daily regular and occasional contributor to the CIC for over 10 years, I paged through the archives to catch up on everything Wing Commander related and came across G_Starkiller's new Hornet model that you posted a few days back. His work, along with my own guilt at having unwittingly neglected wcnews.com for so long, inspired me to blow the dust of Howard Day's excellent Hornet model and render up a new wallpaper to share with you all.

I hope people enjoy the render as much as I did making it.