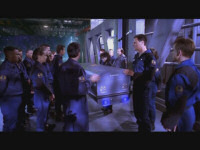 In honor of Memorial Day last week, Kotaku posted an article on video games that acknowledge fallen characters. Wing Commander does this better than anybody, and a couple other series get a nod as well. Hobbes' funeral in Wing Commander 3 is even embedded in the piece. Check out the full article here.
What made it real, though, was the fact they could die. One stray bullet, whether by accident or some careless command from you, the player, and they were dead. And not video game dead, where you could magically revive them, or they'd be "unconscious" and would return for the next mission. Actually dead. They'd be stricken from the game, their progress lost, and to replace them, you'd need to get a fresh young soldier and do it all again.

To lose a player like that is heart-breaking. And because of that, you remember it. You remember the characters you liked most, the ones who helped you out in the most important missions. And each time you enter a new battle, those old characters are still with you, their loss serving as an example, making you more aware, more cautious of what's around each corner.