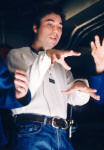 There are two new commlink articles featured at the RSI website. The first one is a call to submit questions to Wing Commander creator Chris Roberts. Only the best five will be picked to be answered in an upcoming feature, so get your thinking caps on!
The second one is a brief message from Chris himself in which he mentions that nearly 23,000 people have signed up for the RSI website.
Today's fiction teaser focuses on mankind's attempt to extend their reach beyond our solar system: 2232: The First Push.
The RSI museum section today has a spotlight on Paul Steed who you will remember passed away a month ago, and who had a lasting impact on the Wing Commander series: Remembering Paul Steed.