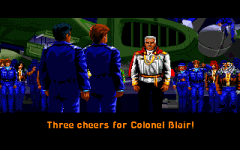 Alexander Bevier, a journalist covering the LOGIN 2011 conference live-tweeted a seminar on the portrayal of women in games... and in the process provided a fascinating anecdote from Crusade, Wing Commander II and Freedom Flight writer Ellen Beeman (then Ellen Guon):
Beeman talks about working on Wing Commander back in the day. She claims that she could reskin the character to female in 30 minutes.
8:22 PM May 17th via web

...She could also test to see if women could buy it that way, and she was dismissed. "it's not worth you time"
8:22 PM May 17th via web

It would be a hard sell for women to take interest in a flight sim, but today, she believes that there's a good niche for women playing.
8:23 PM May 17th via web
Very interesting! It really wouldn't be difficult to swap the Blair and Angel talking heads in Wing Commander II--and very little of the dialogue would need to be modified. Would you have played a Wing Commander with a female lead?