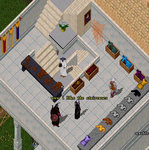 Frequently heckled by bullies? If you can't handle them yourself, the Ultima Online team has posted a set of tips for how to effectively report harassment. It seems like these could apply equally well to other games or even real life. Check out the full list here.
Verbal Harassment is almost by definition a frustrating experience for those affected. Unfortunately we continue to see a few mistakes that turn many potentially valid harassment reports into situations we cannot assist with. As your glorious GM overlords we suggest following the steps below to avoid these problems:

Do not exchange insults or taunts with the harassing player. This is by far the most common mistake we see. If both parties are involved in harassment or the reporting player instigated the situation then it becomes mutual harassment and a GM will not intervene for either side.
Ask the player politely, by name, to stop. For example: "Please stop insulting me Acheren."
Stop talking to the player. You may also want to leave the area.
Add the player to your ignore list (In Options under Filter Options.)
Wait a few seconds and if the harassing player still does not stop then you should immediately report them. Do not wait more than a minute or two after this point to report them and do not log out of the game before reporting them. Open your Help menu, choose "Another player is harassing me", then pick "VERBAL HARASSMENT".
You will be prompted to enter some details about who and what you are reporting. Keep this short and to the point. For example: "Acheren will not stop calling my llamas fat".