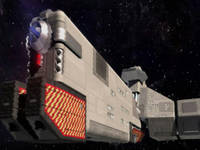 Don't forget to drop by the WCPedia planning party this Saturday evening! It isn't just about the WCPedia though - Dundradal will be helping to set up multiplayer Wing Commander games and moderating a discussion on everyone's favorite space combat sim series. The event takes place in #Wingnut this Saturday, September 18, at 7:00 PM Eastern US (4:00 pm Pacific and 11:00 pm GMT) time. Newcomers can visit via the web interface.
Less than a week to go. I'm hoping many of you have cleared out your evenings to come hang out with some fellow wingnuts. We've been having some great discussions lately trying to getting information compiled for WCPedia articles. Since the CIC birthday just over a month ago, WCPedia has seen more activity then in any other time in its history. LOAF has been chipping in as well check out his page on the Kilrah System.

Saturday's chat isn't going to be exclusively about WCPedia though, I'm more looking forward to playing some WCP MP (let's see if we can't break our previous record for game size...), Armada and Arena. I've got a few WC products I'd like to give a good home as well.

See you all on Saturday!