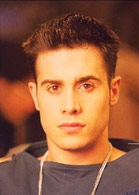 Everyone's third favorite Christopher Blair will be appearing next year in a high profile role next to Kiefer Sutherland in Fox's 24 television show. Several Wing Commander actors have appeared in various cameos, but this new position will be a regular starring role. E! Online is pretty excited about it.
Sources said Prinze is joining the cast of the Fox series "24" as a regular, playing Davis Cole, a recently returned Marine who runs CTU Field Ops and wants to follow in the footsteps of Jack Bauer (Kiefer Sutherland).

Prinze is one of several new cast members on the real-time drama, whose upcoming eighth season started production Wednesday. Anil Kapoor ("Slumdog Millionaire") plays a Middle East leader, Chris Diamantopoulos is the president's new chief of staff, and John Boyd is cast as a CTU systems analyst. All three are regulars, while Jennifer Westfeldt has come aboard in the recurring role of a journalist.