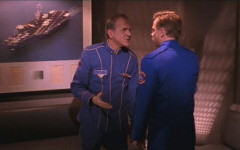 Big established projects aren't the only ones that could use Wingnut voice actors. If you've got a microphone handy from Saga or Standoff's recent rounds of audio sampling, WingFan could use your help. He's looking for someone with a Wing Commander-sounding voice to narrate the intro of his upcoming fan fiction project. The person who turns in the winning submission will have the opportunity to choose the main character's name and gender. A sample monologue script is available here for prospective speakers. You can also read the prelude to his actual story, "Eternal Vigilance," at Crius.net.
Eternal Vigilance is my adaptation of what I think should have happened a month before and 5 years after Wing Commander IV. This is in no way 'canon' as most fan ficts aren't… So, a few of the things we know in the Wing Commander series may change. View this as an alternate reality if you will… I'm just trying to see how this idea would play out. Everyone who reads: I appreciate any feedback!

I really would like submissions as my voice acting leaves much to be desired. I only decided to do the recording myself 'cause I wanted to see what the intro would sound like spoken, but there are probably other fans that could do a much better job than I did.