Space: Above and Beyond is a sci-fi show from the mid-90s that is pretty popular with our Forum members. It finally came out on DVD this week -- selling for $39.99 at Best Buy. After a period of exclusivity it should show up at other retailers. TVShowsOnDVD.com is good for keeping track of what shows are coming out on DVD. MacGyver is up to Season 3!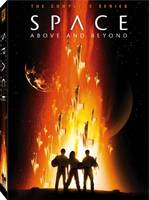 FROM "THE X-FILES" PRODUCERS GLEN MORGAN AND JAMES WONG.

It's the year 2063. After 150 years of deep space exploration, people on Earth feel certain they are alone in the universe. Everything changes when news comes that two outposts light-years away from Earth have been attacked by an alien civilization. Now the new young recruits of the United States Marine Corps Space Aviator Calvary are headed for the front lines in the toughest battle the world has ever had to face. Thrust into an intergalactic war, these untested fighter pilots suddenly find themselves waging a life-and-death struggle to protect Earth and to save mankind from total annihilation.

5-Disc Set Includes All 23 Episodes-Including The Double-Length Pilot Episode!