According to the latest edition of Videonews, a local movie magazine, the Wing Commander Movie VHS will be available for rental on March 7. The magazine features a full page ad, and a positive mini-review.
A movie based on a videogame... you're probably not sure what to expect, and neither were we. But rest assure, Wing Commander is a pretty good movie for its genre. Fans of the game series will notice that it doesn't always follow the game to the letter. The movie had a fairly low budget, which you can tell from the not so wonderful aliens and the somewhat simplistic scenery. But these shortcomings are more than compensated for by good acting achievements by Matthew Lillard, Saffron Burrows and Freddie Prinze Jr. Wing Commander is a no-nonsense, classic space-adventure full of action. Fans of that kind of movie won't be disappointed.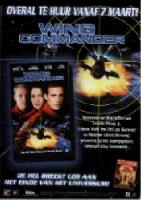 Article translated by Waffel.