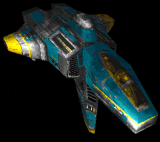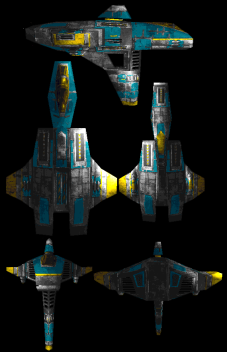 PL02 Velacia in civilian colors, Tri-System circa 2790 (larger).
---
HISTORY
The Velacia is a mid-level light fighter available on the civilian market in the Tri-System. Velacias are flown primarily by independent operators, but some have found their way into pirate hands. Good Ol' Boys Haulage, a front for a pirate organization, maintained an Velacia as part of its arsenal. Three of the Tri-System's most noteworthy pilots fly Velacias: Lazenby Simpson, Brad Califaryan and Ignatius Furorum.
The Velacia entered service before 2767. Notable Velacias include D200_388L (2767), H643_354D (2786), Z234_243D (2787) and G568_32DY. G568_32DY was stolen from Mendra Space Port in 2690. H643_354D is unusual in that it has been granted an official license to kill.
---
SPECIFICATIONS
Class: Light Fighter


Max. Velocity: 320 kps
Aft. Velocity: 640 kps
Acceleration: 54 kps2
Max. Y/P/R: 50/50/50 dps
| | | | | |
| --- | --- | --- | --- | --- |
| | | 100 cm | | |
| | | 150 cm | | |
| 100 cm | 150 cm | n/a | 150 cm | 100 cm |
| | | 150 cm | | |
| | | 100 cm | | |
Guns-
(2) Flux Beam
Missiles-
(2) Snipe
(1) Brute
(10) High Explosive Mine
Decoys: Decoy Mk. I (10)
Cloak: No
Jump Drive: Yes
Module Mounts: 3
Missile Mounts: 3
Gun Mounts: 2
Crew: 2 (Pilot & Passenger)
Cost: 20,000 credits