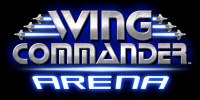 LeHah noted a small error at the EA Arcade site: a question about what languages Wing Commander Arena would be available in was answered with a response about Boom Boom Rocket. EA's community moderator was quick to respond with a correction and some good news:
Wing Commander Arena will initially be offered in English, French (Francais), Italian (Italiano), German (Deutsch), and Spanish (Espanol).
Sounds like the game will be released in Europe and the US at the same time! If you haven't started posting to the official message board boards, give them a look -- it's a great way to interact directly with Electronic Arts!