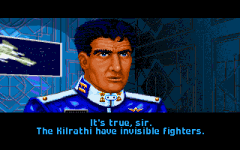 With Wing Commander and The Secret Missions all wrapped up, Wingnuts are ready to begin replaying Wing Commander 2 together this week. If you missed out on WC1, now's a great time to get started. The instructions are simple: play a few missions each week and share your experiences with other fans. Check out the forum links at the bottom of this news post for some awesome examples from fellow pilots. Here's Dundradal with more details.
Greetings Pilots,

The time has come. The Vengeance of the Kilrathi is at hand and we have to do our best to repel them from the Enigma Sector. It's been ten years since our last combat mission, but what we need is "a bona fide hero!"

WC2 is a favorite to many and this replay should spur some intense debates about how to wreak havoc on the Kilrathi in the Enigma Sector. Because of breakdown of WC2 missions we are going to find ourselves stopping in the middle of a system as opposed to finishing one up every week. I'm going to leave the missions per week at six until the last two weeks of WC2 when the last seven missions (Enigma and K'Tithrak Mang) will be split into two shortened weeks.

Our first assignment is Gwynedd 1 - 4 and Niven 1 and 2. Man your Ferrets and get to work people! This war isn't going to win itself.