Super Soaker Collector / Administrator
Today we've got a fun movie poster from the
Triple Threat Theater
podcast. It celebrates the joint collaborations between Freddie Prinze Jr. and Matthew Lillard. Last year they dedicated an entire episode to the trio of She's All That, Wing Commander and the Scooby Doo movie, which all starred the duo between 1999 and 2002. This artwork was used to promote the episode, and they even did a neat
making-of post
that looked at the process from concept to finished design. That's always neat to see.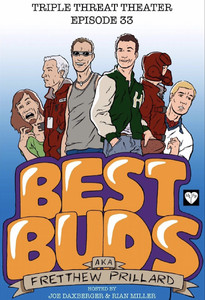 As for the actual episode, you can probably skip it. It clocks in at two hours
here
with the Wing Commander portion lasting from about the 52 minute mark through about 1:15. They didn't quite understand the context of the 1990s and how big of a blockbuster game Wing Commander was in the years preceding the WC Movie's development. Instead, the streamers rehash the normal legitimate complaints about the visual design or Rosie's death, but they don't appreciate the talented international cast nor the special effects, which were very good for the time. Perhaps the most egregious point is the absolutely painful comparison to "Star Trek with space fighters" instead of the super obvious Star Wars connection - to the point where they try to compare the Pilgrims to some kind of mystical Mr. Spock instead of - duh - a poor man's Force powers. But hey, cool poster.
--
Original update published on February 13, 2021